site-specific videoinstallation, 2016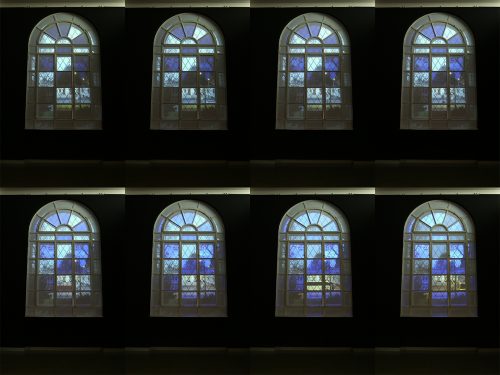 I have got a possibility to create a site-specific videoinstallation in Kunsthalle Budapest for a group exhibition, here is the photo documentation.
​Two parallel phenomena appear (looped) in the projected image of the window: the process of dawn and dusk. The two time planes are connected to the very space and view that the viewer would see through the uncovered window. The video installation calls attention to being-time, which is 'independent of the chronological order of historical time, the ever-accelerating units of work time or competition time, the race dictated by the growth of material wealth and profit.' Depicting the dimension of time – generally experienced as being linear – by repeating itself and in a parallel process, the installation brings to the fore an alternative (permanent) perception of time. In this system the alternating sequences of change, ephemeral pulsations become irrelevant and give way to passive observation.