CV
Fine artist from Budapest,
PhD student of the Hungarian University of Fine Arts,
project assistant of the EU4ART Allianz (European Universities project)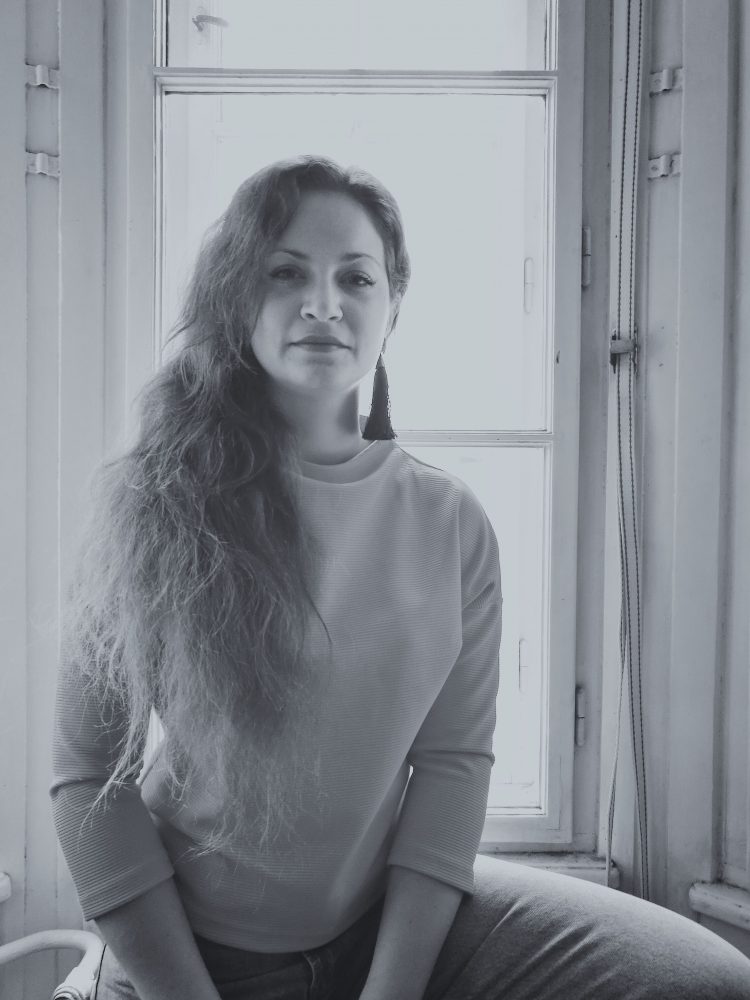 I work with varied medium like video installations, videos, sculptures and photography, focusing on the field of big scale installations and environments. The main question of my works is the position and possible attitude of the individual living in a globalised urban space and in a time overcrowded by events. Do we have chance yet for finding ourselves under the blooming of the non-places, on the threshold of environmental catastrophes and the new rise of the populists who create capital by the identity crisis? In my hypothesis, our knowledge and relation to the space and place determines our possible position and relation to the authority which is present in our everyday life's structures. It is easy to be lost in the labyrinth between the virtual reality (global village) and our direct environment, if we are not sharpening our sense organs for the plastic reality surrounded us, the ability of living the existence, the so called dasein.
Typically I do not create autonomous artworks, but situations: I inhabit given spaces with my site-specific installations and environments, where I create conversation between the space of the artwork and the real space, or the imperial time and the private time. I build human-scale spaces on the border of sculpture and architecture, the reality and virtuality, which contains accurately predicted paths and viewer positions. During a long working process, I manipulate and mix the time and space, which could be sensed in the given position, and then I expand them for a common, virtual field, where the linearity and hierarchy (verticality) could be replaced by a permanent, democratic field (horizontal permanency). Walking through these total installations, the audience must overwrite his routine positions in his environment, must rethink his conventional perceptual schemes – he is the centre. I think it can be an art practice-based weapon against the manipulation of the authority.
Hungarian University of Fine Arts (HUFA), Doctoral Programme (DLA)
Research topic: The Non-autonomous Artwork, Supervisor: dr. habil. Valeria Sass DLA 
HUFA, Faculty of Sculpture
Professors: dr. habil. Valeria Sass DLA and Ádám Szabó DLA 
HUFA, Faculty of Fineart Teacher
Erasmus Program, Academy of Fine Arts, Prague (Monumental Art class, Intermedia)
Professor: Jiří Příhoda
Suspended (Óbudai Társaskör Gallery, Budapest)
Scale (with Ágnes Hardi, Artus Studio Gallery, Budapest)
Pass it on (with Manuel F. Contreras, 2B Gallery, Budapest) 
Three Doors (Parthenon-friese Hall, Budapest)
Timetrack (Labor Gallery, Budapest)
Hesse's Permanency (HUFA)
Segment (Baroque Calvary, Budapest)
Selected group exhibitions
Hortus Conclusus – Velence-lake Symposium (Main Square of Sepsiszentgyörgy, Romania)
Time of Our Lives? (MODEM, Debrecen)
Memories of Forgetting – Photo / Model 2. (DLA exhibition, Barcsay Hall, HUFA)
Farm Atelier (PINCE, Budapest)
Salt (Kunstküche, Budapest)
Paramnesia (with 6D group, Budapest Gallery, Budapest)
DLADLA100 (DLA exhibition, Barcsay Hall, HUFA)
Pictures and Pixels (Kunsthalle, Budapest)
Borderline Case (Parthenon-frieze Hall, Budapest)
Accident (with 6D group, Omnivore Gallery, Budapest)
The Plot Thickens (Kunstpodium-T, Tilburg, Netherland)
Aperitif (L'Art Open Studios, Budapest)
Side by Side in the Middle (with 6D group, Omnivore Gallery, Budapest)
Best of Diploma (Barcsay Hall, HUFA)
Five and more (Artus Gallery, Budapest)
Spaces of Uncertainty (Barcsay Hall, HUFA)
Young Artists at Nagyatád (Nagyatád)
Your Own Reality (House of Arts, Gödöllő)
Hole (Fészek Gallery, Budapest)
56,3 square meters (Fészek Gallery, Budapest)
National Art Conference (Eger)
Postdoctoral Scholarship Program
National Excellence Program
Peter and Irene Ludwig Foundation Researcher Scholarship, New York
Géza Ottlik Park – Public Sculpture Competition of Budapest 3rd place with land-architects
National Excellence Program
Monument of the Hungarian Revolution of 1956 – Public Sculpture Competition of Budapest, 3rd place with 6D group and architects
Vígh Tamás Award (for the best sculpture diplomawork)
Erasmus scholarship, Prague, Academy of Fine Arts, Monumental Art Class
project assistant at the EU4ART Allianz (European Universities Project) at Hungarian University of Fine Arts
keeping courses at the Hungarian University of Fine Art: Presentation techniques in foreign language and Free Spirit of Sculpture
Secondary School of Fine and Applied Arts, Budapest
Ferenc Medgyessy Secondary School of Fine Arts, Debrecen
Error (organizing the exhibition of the university course called Free Spirit of Sculpture, MAMŰ Gallery Budapest)
Two-a-side (organizing the exhibition of the university course called Free Spirit of Sculpture, MAMŰ Gallery and the Doctoral School of HUFA, Budapest)
Farm Atelier (organizing the exhibition of the Land Art Workshop called SzILAC, BASEMENT Gallery and community space, Budapest)
Rootzone (organizing the exhibition of the Sculpture class of Valéria Sass and Ádám Szabó, Hungarian University of Fine Arts. Óbudai Társaskör Gallery, Budapest)
International Lake Velence Symposium, Hungary
'SzITA' Land Art workshop, Hungary
Apprentice/Master project, Tillburg, Netherland
Woodcarwing Symposium, Nagyatád, Hungary
Bibliography (in English)
Diósi / Horváth Lóczi / Koller / Szakál – art catalogue of the cARTc Cultural Foundation, 2019

Time of our Lives? Starting perspectives – catalogue powered by MODEM, 2018

Memories of Forgettin, catalogue of HUFA, 2018

Rootzone, 2017, Budapest Artweek
Paramnesia, 2017, Budapest Gallery webpage

DLADLA100, 2017, catalogue by HUFA 

The Plot Thickens, 2016, Kunstpodium T Archive