ephemeral installation, 2017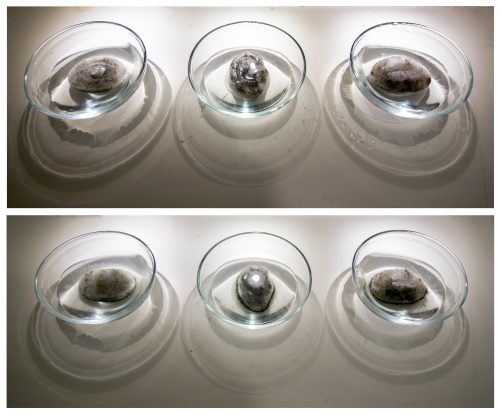 The installation contains three salt sculpture: one ear, one eye and one mouth, carved by salt blocks from the salt mine at Paraj. Its additional accessories are three plates with simple water in them. In the exhibition called Salt, at Kunstküche, Labor Gallery, Budapest ( http://artmagazin.hu/artmagazin_hirek/uj_kiallitohely_nyilik_a_laborban_.3798.html?pageid=119 ) I put these three salt sculptures into the three plates. What happened: they melted till the water become supersaturated tincture, so their forms become almost unrecognizable but haven't dissolved totally.
My efemer esperiment is about the socio-political question: how long is it worth to soak in lukewarm water?
​